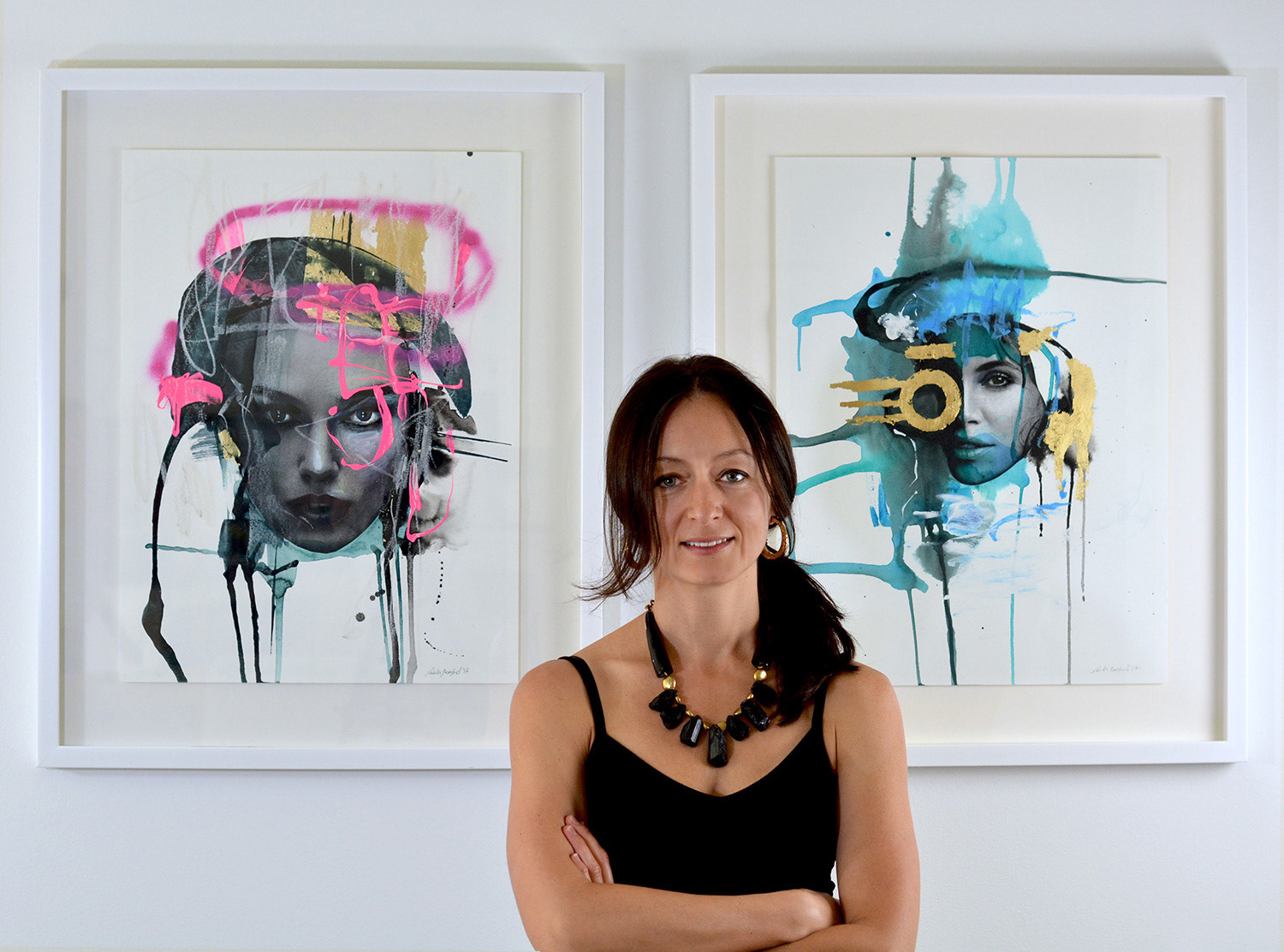 Natalia Berglund is a multidisciplinary visual artist who works in a variety of different mediums, with a primary focus on portraiture. Her latest body of work is inspired by Orthodox iconography and fashion photography. Drawing parallels between the high drama of ancient Russian icons and contemporary representations of women in the media, Natalia's work explores the tension inherent in modern ideals of femininity.
At once both rejecting and embracing traditional religious portraiture, her current work is sensual, powerful and unafraid to challenge both Russian and American ideals of what it means to be a woman. 
Hailing from Minsk, Belarus, and educated in the United States (where she currently resides) Natalia is in a unique position to parse the differences between East and West. Her first solo exhibition, "Faces of Change" was recently on display at the Museum of Russian Art in Minneapolis, Minnesota.  
2019 – One Room – The Cowles Center  |  Minneapolis MN  |  solo exhibition
2019 – inVisible – Circa Gallery  |  Minneapolis MN  |  juried group exhibition
2019 – Gifts and Prayers - The Romanovs and Their Subjects – El Paso Museum of History  |  El Paso TX
2019 – Ten – BG Gallery  |  Santa Monica CA  |  group exhibition
2019 – C4W - Gamut Gallery  |  Minneapolis MN  |  juried group exhibition
2019 – MN State Fair Art Show  |  St. Paul MN  |  juried group exhibition 
             (received Minnesota Figure Study Collaborative award)
2019 – Inaugural – BG Gallery  |  Santa Monica CA  |  group exhibition
2019 – Saatchi Art "The Other Art Fair"  |  Chicago IL
2019 – The Art Collective Gallery  |  Rogers AR  |  group exhibition
2019 – From Fire and Earth – El Paso Museum of History  |  El Paso TX
2019 – The Hive  |  Minneapolis MN  |  solo show
2019 – LA Art Show  |  Los Angeles CA  |  bG gallery, booth 701
2018 – C4W – Gamut Gallery  |  Minneapolis MN  |  juried group exhibition
2018 –  The Museum of Russian Art  |  Minneapolis MN  |  solo exhibition
2017 – Open Door 13 – Rosalux Gallery  |  Minneapolis MN  |  juried group exhibition
2017 – C4W - Gamut Gallery  |  Minneapolis MN  |  juried group exhibition
2017 – Through My Eyes – Paramount Center for the Arts  |  St Cloud MN  |  juried group exhibition
2017 – Sq2 - Gamut Gallery  |  Minneapolis MN  |  group exhibition
2017 – Spectrum Gestalt – BG Gallery  |  Santa Monica CA  |  juried group exhibition
2016 – C4W - Gamut Gallery  |  Minneapolis MN  |  juried group exhibition
2016 – Artgaze – Free Arts MN charitable auction  |  Minneapolis MN 
2015 – Wintertide - NEMAA & Public Functionary  |  Minneapolis MN |  juried group exhibition
              (received "Audience Choice Award")
2014 – Art Incognito – Free Arts MN charitable auction  |  Minneapolis MN 
2014 – Minnetonka Center for the Arts  |  juried group exhibition